Click to download the press materials:
4.Hi-Res Images (Google Drive)
---
KUALA LUMPUR, 04 February 2020 – Cadbury, one of the leading chocolate brands in Malaysia and world's best-selling confectionery brand under Mondelēz International officially commenced the third season of their partnership with leading football authority, the Premier League. Cadbury presented an exclusive appearance of football legend, Jamie Redknapp – formerly representing Liverpool, Tottenham Hotspur and Southampton football clubs with the addition of the Premier League Trophy in Malaysia.
Cadbury first partnered with the Premier League in 2018 to build on the shared focus of delivering the goodness of football and chocolate to local fans. The success of the Cadbury FC campaign in Malaysia in 2018 and 2019 was achieved with the confectionery brand delivering exciting football moments with appearances by Andy Cole and Michael Owen respectively. As the official snack partner of the Premier League, Cadbury once again introduces its Cadbury FC campaign to Malaysia with the aim of engaging fans through once-in-a-lifetime experiences.
The exclusive appearances of the Premier League Trophy and Jamie Redknapp presented by Cadbury enables the 'live' and exclusive opportunity for Malaysians to indulge in the excitement of the tournament through the lens of the Cadbury FC campaign.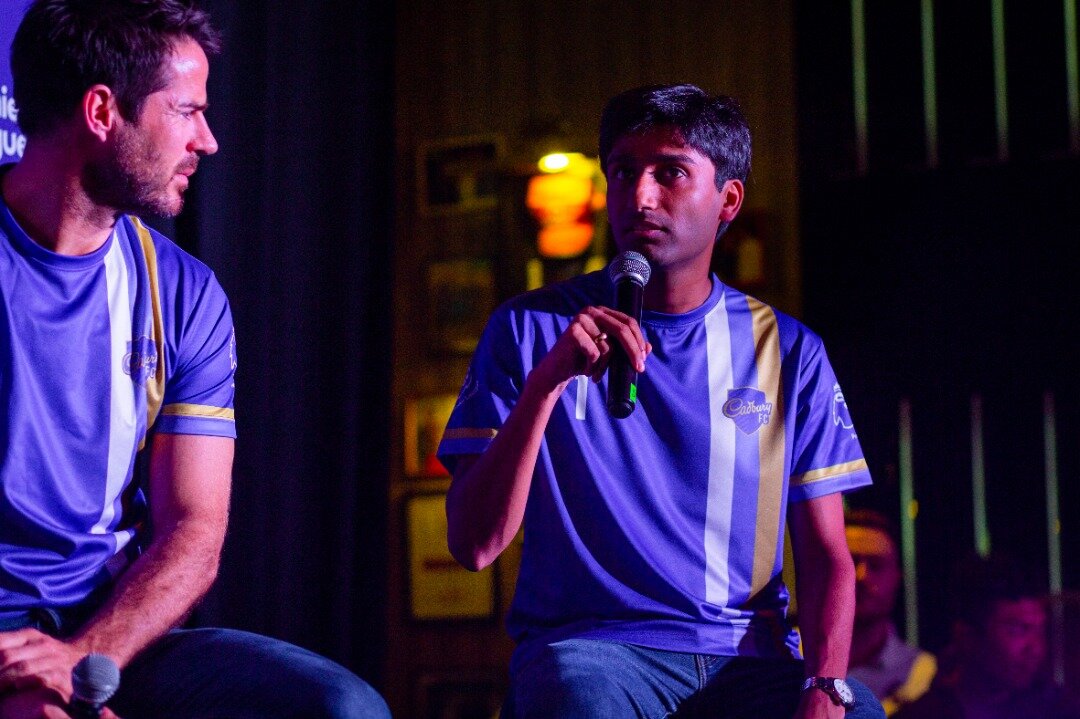 "Cadbury has been the official snack partner with the Premier League for three years now. The partnership aims to bring together two iconic global brands that have a unique place within popular culture and the hearts of our consumers across the world. For Cadbury in Malaysia, we see this partnership as the perfect opportunity to share moments of excitement that football brings, not just to our existing Cadbury fans but to new consumers as well." said Rahul Mathur, Category Manager, Chocolates for Mondelez International, Malaysia and Singapore.
He added, "This is also in line with our brand purpose to inspire a little more Cadbury goodness in the world. For many years now, Cadbury has represented a plethora of emotions, from shared values such as family togetherness to shared good feelings and collective joy. This collaboration also allows us to bring people closer together through shared football rituals, experiences and spirit. As part of these feel good moments, our Cadbury FC Buy and Win contest gives participants the chance to win the once-in-a-lifetime opportunity to watch the Premier League match of their choice in the UK."
Adding excitement to the announcement of the Cadbury FC Buy and Win contest, Premier League football legend Jamie Redknapp kicked-off the third season of the campaign here in Malaysia with his three-day visit to Kuala Lumpur. The campaign's highly-anticipated return delivers more exciting football moments to fans here in Malaysia with exclusive appearances by Jamie Redknapp and the Premier League trophy in February, followed by engaging experiences with an additional Premier League legend in March.
Jamie Redknapp who is recognised internationally for his prolific 16 years as a midfielder in the Premier League across reputable teams such as Liverpool and Tottenham Hotspur shared his excitement to be part of the campaign. The legend first established himself as a key midfielder at Anfield and eventually earned his stripes to become captain of Liverpool in 1999 where he led his team to numerous victories.
Speaking at the launch, Jamie Redknapp said, "I'm feeling very excited to be in Malaysia and to kick start the Cadbury FC campaign here. I've had the opportunity to meet and interact with some local fans and have been amazed with their passion for the game. Cadbury and the Premier League share the same goal of inspiring moments of goodness within their fans and that's what makes this such a great collaboration. I'm grateful to be part of this campaign and share these great moments with the fans."
The Premier League Trophy that was first commissioned in 1992 will now be making a special appearance this year in Kuala Lumpur from 4th to 6th February 2020 to provide football fans in Malaysia the opportunity to get up close and personal with the prestigious trophy. For three days, fans will have a rare opportunity to take photos with the iconic trophy, meet football legend, Jamie Redknapp, and experience the thrill of the Cadbury FC campaign with immersive football activities.
Premier League Trophy Appearance Details
Date: 5th February 2020, Wednesday
Time: 12pm – 9pm
Venue: Tesco Kepong (3, Jalan 7A/62A, Bandar Menjalara, 52200 Kuala Lumpur, Wilayah Persekutuan Kuala Lumpur)
Date: 6th February 2020, Thursday
Time: 10am – 9pm
Venue:LG Ice Rink Railing, Sunway Pyramid (No 3, Jalan PJS 11/15, Sunway City, 47500 Petaling Jaya, Selangor)
Entering into the third year of the partnership, Cadbury is once again hosting its Cadbury FC contest with exciting prizes that include signed football club jerseys, signed boots, and the ultimate grand prize for 7 lucky winners and a friend to win VIP Hospitality tickets and an all-expense paid trip to the UK to watch a Premier League match. The contest runs from 1 February until 31 March 2020. Steps to submit an entry is as follows:
1. Purchase any Cadbury product worth any amount from any store nationwide
2. Submit your name, IC and photo of receipt as proof of purchase via WhatsApp to 010 897 9899
For more information on Cadbury Malaysia and the Cadbury FC contest, check out the Facebook page at https://www.facebook.com/CadburyMalaysia.

---
Click to download the press materials: